10 Design used Sefaira to optimise the energy and daylight performance at Ashjar at Al Barari, a high end residential development in the extreme climate of Dubai, UAE.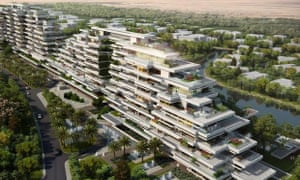 The built environment is a significant contributor to CO2 emissions. It is estimated that a third of global greenhouse gas emissions are from the use of buildings.
While low carbon renovation of old buildings is vital, it is equally essential that new builds have high environmental standards that not only reduce emissions, but also cut energy costs. Sefaira, a software company, believes it is the first to bring the power of cloud-computing to help designers do just this.
Photograph: Sefaira
Sefaira's software brings deep, physics-based analysis into the building design process and offers instant feedback. Even at the earliest stages of design, it allows architects and designers to look at different strategies to improve a building's environmental performance without compromising the construction schedule.